Explorers!
There's been a new teaser on the Jurassic World Alive page, and it caused us to take another look at the 1.6.25 code. As with all datamine-style articles… be warned, this article may contain spoilers of future updates (or perhaps dinosaurs that are never introduced) so if you do not like spoilers — DO NOT SCROLL DOWN.
.
.
.
.
.
.
.
.
.
.
Still here? So are we! 🙂
The following picture was released on the official Jurassic World Alive twitter account.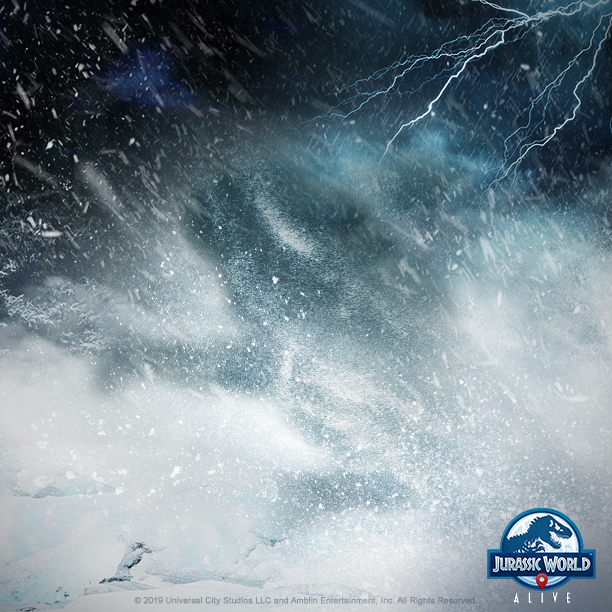 Under the picture was the following context:
What is coming out of the storm?
So let's discuss a few things.
Rain or Snow?
There's been a lot of speculation about aquatics coming, and at first glance this looked like rain to us. The lightning in particular seems to indicate rain, but there's a little too much white here to not feel like this is snow. That rock on the ground (if it is a rock) appears to be covered in white powder, rather than wet, so we lean towards snow over rain.
If it is snow, what else could this be indicating? If it's rain, clearly it's hinting at aquatics. But what is that object in the front of the frame covered in white?
Datamined Creatures
Another interesting tidbit is we're not sure when it happened, but in the code we're seeing two creatures called Limnoscel and Limnoscel2, which seem to imply Limnoscelis Gen 1 and Limnoscelis Gen 2. Now, sometimes we see new creatures LONG before they are released (I think we saw Pachy in update 1.3 but didn't see it actually in the wild until 1.6) and other times we could potentially see something right away. But taking a peek at what Limnoscelis looks like, it MIGHT possibly look like what we're seeing in the shadow.
Patch Coming Soon?
Is this an early indication that a new patch is coming soon? It certainly seems that way. Last time we saw early views of silhouetted dinosaurs, and this time around it seems much more vague, but this does seem similar to how things have been done in the past.
We've been expecting something would come every 2-3 months, but we'd been assuming for a while that the next update might be coming in May (around May 11th when the patch notes for the worldwide release came out) and around the 1 year anniversary of the game. But this certainly seems promising! Maybe it's coming even sooner?
What are your thoughts? Could this be Limnoscelis? Could it be some other creature?
For all the latest Jurassic World Alive news, follow us on Twitter and Facebook and join the discussion on our Discord here!